Link building , do you have to do it or not? Yes, but not in any way.
In fact, launching a link building campaign without following a defined strategy or system is at best a waste of time , and at worst it will be worth a Google penalty.
So, leaden feet and plan everything well before going to the death with link building. And another thing:
Do not do it if you are not 100% sure that your content, your SEO On Page, your design and user experience are impeccable .
If you link building (the real one) to a faulty website or to mediocre content, you are undermining your chances of receiving links and also, by missing the other legs of SEO , you will not grow as you expected with the links that you do get.
In this post for Woorank I summarized 8 things you can do with your SEO before getting into a link building war with the competition. They are actions that will also give you results (they will improve your organic traffic), at the same time that they will give you a much better base on which to do your link building when you are really prepared.
That said, I'm going to tell you about 7 possible link building methods. If you know another and it is not here, it will very possibly be a variation of the ones I mention.
Why do I recommend following one of these 7 systems? Because if you start creating links at random, using different link building techniques but without a defined plan, you will achieve too few, with too much effort, and you will be discouraged. To increase your authority in an effective and sustained way over time, you have to systematize.
If you want to jump directly to the case study where I explain how I got links from more than 500 domains to a single post, here it is .
Link building and Google
I have ordered the types of link building from least to most according to Google's "ordinances" . Keep in mind that for Google there is no good link building, just as for John Wayne the only good Indian was the dead Indian.
In an ideal world according to Google, nobody would do link building, but we would all dedicate ourselves body and soul to the quality of our content, and the links would arrive alone as a result of our good work.
This has a (very small) part of truth. It is true that if we create chapeau content , superior to everything in the niche, we have a better chance of getting a link from the sky than if we publish mediocre content.
But it is also true that the competition has mediocre and even seedy content, and despite this they achieve links. Either because they arrived earlier or because they are very good at asking, or because they have done something "dark", but the fact is that they have backlinks. And that's why they rank better than our piece of super content that no one links to.
So the only thing left for us is to do link building and do it according to a strategy, but taking into account that some systems bother Google more than others.
Types of link building
From more black hat to more white hat, we have:
Spam or Automated Link building
This is giving a little button and launching into the world an army of robots with the mission of spreading any blog, web or directory that allows comments or to register a page.
Effectiveness: today I consider it useless. Three years ago you could still score a goal against Google by this method, but after successive Penguins it is more than controlled. Perhaps it could have some effectiveness in a new niche, in which there is almost no competition (but then it is also enough for you to do a minimum of link building of any other type).
There will always be black hats that will tell you that they have a new method of doing it that Google does not catch, but it will take a matter of months for it to do so.
Pros: it doesn't take time away from you.
Cons: Everything. It gives you nothing and puts you in danger of a penalty. Avoid.
By Private Blog Networks (PBNs)
This is to create your own private club of webs with the sole purpose of linking to the web that you really want to position (the money site ). Hence the acronym PBN (Private Blog Network).
It is a method that clearly goes against Google's guidelines (" Participation in link schemes "). But if it is done well it is not easy to detect.
Doing it well means, to begin with, hosting the websites in different hostings, registering the websites from different IPs, etc. And to continue, create a structure in umbrellas or levels.
That is, it is not enough to create 20 websites and that all point to the money site, but it will be necessary to create a first level with 4 or 5 websites ( tier 1 or level 1), a second level with websites linking to this first level ( tier 2), etc. All this to reinforce and make the most of the link juice that passes each link.
Effectiveness: until now it was, unfortunately for Google, one of the most effective methods to rank, especially in relatively new niches, without clear dominators.
That is to say, a PBN cannot by itself knock down a strong domain with a rich profile of natural links, but it can rise above several domains of small or medium strength that have never been serious about link building. I repeat, always if done well, not sloppy.
Why do I say so far ? Because Google, which has been with PBNs for a long time, has introduced some changes in recent months that have managed to hit a large part of the websites that rank with this method.
For example, we know that he has patented a system to estimate the normal traffic that a website with x incoming links should receive, and devalue in the ranking all those that, according to his calculations, receive much less traffic. The system is complex and I explain it in detail in this post: is web traffic an SEO factor?
Be careful: I am not saying that today Google can locate 100% of the world's PBNs, in fact it is sure that they miss a lot. But if I say that he is in it, and every time he does it better.
Pros: PBN has the clear advantage that you control everything: the anchor text, the speed at which you create links, the link profile of each website on the network, etc. The dream of every control freak.
Cons: time consuming. Time that could be spent on other SEO strategies or tasks. And as I said, in strong niches, PBN will not be enough, and now Google is already hunting some.
For me, it is a method that Google has put the cross on and sooner or later will end it . Today I would not set out to create a PBN for a client. Too much risk and time invested. For you, the short-term benefits of PBN may justify the risk. I prefer to do SEO with the greatest possible peace of mind that it will continue to work in the long term.
Money Blog Network (MBN)
A variant of the PBN is the MBN or money blog network . It is more or less the same, but with the intention that all the webs of the network receive organic traffic and are therefore money sites. The main proponent of this method is Romuald Fons and he explains it very well in this post.
In the end, it is like the network of blogs of a lifetime, such as Weblogs, SL, although it is that all the websites are in the same niche.
Effectiveness: theoretically superior to that of a PBN, it would serve even more mature niches (for example, the chicken recipes that Romu attacked).
Pros: that the work you do can be translated into more benefits, by having more money sites. It is a priori more profitable work.
Cons: the time it takes. Chinese work to do it really well, coordinate all the links on the network, IPs, CMSs, not fail in any step … In summary: it is not within everyone's reach to have several optimized money sites.
What does Google think of MBNs? It is a less frequent method than that of PBN and, to my knowledge, it has not been expressly stated. In principle, it falls within the definition of "link scheme", so if it finds one, it could even penalize it. My opinion is that it is more likely that you simply discount or devalue the links between the webs of the network. After all, that's what it does (always according to theory) with backlinks between websites of the same group of companies. That is, in the event that Google catches the network, you could always conceal, publicly identify the websites as part of the same group of companies and the work would not be completely lost.
In any case, if I got into the work of setting up an MBN, I would always combine it with one of the more white hat methods described below, to also have backlinks from external websites.
Guest Blogging (based on guest posts)
A classic system: go through all the websites you can in your niche leaving guest posts , with a link to your website. It is like using the websites of others, to create a kind of PBN that cannot be penalized. In fact, a guest author at Grown Up Digital spoke about guest blogging in great detail.
Like everything good in the marketing world, as soon as word got out that this worked, people started abusing it. In the golden age of guest posting, photographers posted guest posts on plumbing blogs and plumbers on wedding blogs.
As one of the basic rules for a link to transfer authority is that the link comes from a relevant page (read thematically related), this perversion or abuse of guest posting in the background was useless.
In 2014 Google publicly announced that this type of guest post did not help rankings and that it could even penalize, and people like sheep all repeat that guest posting was dead.
Effectiveness: the truth is that within your niche and well done, with quality posts and not pamphlets that are mere excuses to sneak in a keyword, guest posting continues to have some effectiveness, in addition to making you more visible in your niche and helps build relationships (see next point), nurture your subscriber list, etc. I have done it myself and recommend it for certain clients.
Pros: If you're good at writing and don't have a good network in your niche yet, go ahead. Limit yourself to websites of your theme, do not repeat the linked URLs or anchor text too much and you will see positive effects.
Cons: if you are not particularly good or fast writing it can take too much time and not give you the expected results Signs that something is wrong: if you do not receive comments on the guest posts and if the actual traffic to your website is very small. It is a sign that your posts are not interesting or that you are not attracting attention. You can always hire a freelance writer to do it for you, although I don't recommend it too much, because it's all about doing it with personality.
Based on relationships / networking
Neither more nor less, take advantage of your relationships and contacts in a niche to obtain links. Be careful, because at first glance this does not seem like a system, at least not a scalable one, but it is.
The buts that people usually put when you talk about getting links in your niche are:
– I have very few contacts (then start creating them) , and
– That the competition will never link you. But a niche is not only made up of websites that are competitors!
The method works like this. Locate websites that are in your niche or adjacent and very similar niches and that are not direct competition . For example, if you only rent bikes, you are not in direct competition with someone who fixes or tunes them. They are two different businesses and perhaps one of the two can link the other in exchange for a favor. Everything is to propose.
The system is to comb the niche and contact EVERYONE and each of the domains thematically related to your business and that are not competition, introduce yourself and propose a collaboration.
Not all of them will link you, but a considerable part will, and you will also be strengthening relationships, from which clients, opportunities can emerge … That is networking and acting with a win / win mentality.
Of course, the strategy of creating or taking advantage of relationships has many modalities:
– organize, sponsor, participate or lend a hand in events,
– create relationships only with influencers,
– actively participate in an association for companies in the sector …
Finally, I am going to tell you a secret . SEOs with experience and contacts in the sector have an advantage over the rest of the mortals. As they usually handle a wide variety of websites on different topics, they can agree with other SEOs to "exchange" links for their clients. The best thing is that these "exchanges", unlike a PBN or a link sale, do not leave a mark, as long as a specific website is not abused and the websites provide reasonable traffic.
There you have why some agencies and consultants specialized in link building can create links faster than the rest (not to mention that they really know where to place their backlinks and how to do it). I haven't told you anything. 😉
Effectiveness: quite high, as long as you don't want immediate results (in SEO there almost never are).
Pros: They help your SEO and they help your business. Relationships are the foundation of SEO and any marketing and sales activity. Get out of the cave and make yourself known. Relationships have an extra in their favor and that is that sometimes they are worth a link even without you doing anything. People know you, appreciate your work and that is why they link you. That is the most natural link you can get.
Cons: that if the niche is highly competitive it is usually not enough. It is something necessary, that you must do yes or yes, but you must add at least one other strategy.
What does Google think of all this? It cannot be against you taking advantage or creating relationships within your niche, because it is a sign of the importance of each one within their niche, and that is what they seek to reflect with their rankings. The only thing that could be questionable is abusing the promotion through influencers, because it is a form of advertising.
If you carry out influencer campaigns in order to create links to your website, the safest way to avoid a manual penalty (there have been cases) is to identify it as advertising and mark the links as "nofollow" (see link purchase section).
Systematic methods (resource pages, broken links, etc)
All types of link building follow more or less one pattern, but there are some more structured than others. What I call systematic link building is perfect for any niche, since it doesn't depend on previous relationships or your ability to create them.
It is to face link building as an engineer would, based on perfectly defined rules and steps.
It is about locating websites within your niche with specific problems or situations (what in English is called a footprint), which can be easily translated into a link in your favor. Examples:
Broken link building
Comb your niche for broken external links and propose an alternative page to webmasters (yours, of course). Most people want to get rid of broken links on their website. If you choose this method, here is a very complete and easy-to-follow guide that breaks down the process (in English, yes)
Rescue mentions (link claim)
There are many people who may have mentioned your business on their website, but without giving you a link. Contact them and ask nicely, most will give it to you.
Link building by images
If you have images of your property, you can do reverse searches and locate those who are using your images without linking. Contact them and you will get a lot of backlinks. On the contrary, you can also locate people in your niche who use third-party images without having the rights and offer yours in exchange for a mere link.
Resource Pages
Believe it or not, there are pages dedicated to linking valuable content within a niche, but they can't link to you if they don't know you.
The best thing about this type of page is that you can create one yourself and take advantage of it to get backlinks, since your page becomes the most complete list of resources in your industry or subject.
An example: this list of tools to sell on Amazon .
Comments on blogs and forums
Find those that allow you to leave a comment with a link and, without spamming, leave your seed. This is different from using automated techniques, as you choose your target carefully, not roughly. Only relevant pages for their subject matter and that willingly accept the links.
Effectiveness of systematic methods: quite high. Depending on the method and the niche, you may find yourself with very high positive response rates.
Pros: you lose little time, which takes you to locate searches by doing a search for "SEO footprints" and which takes you to send emails or leave comments. Also, you are not breaking Google's rules. It is one of the most white hat methods out there.
Cons: The opportunities are not limitless and if you are in a niche where someone has already used this strategy, it may be that you are "late", which is quite frustrating (take a good look at the links of the competition before putting with it, so as not to waste time). But for under-exploited niches it can be a great technique.
Link building tools
It is not that it is a method in itself, but if you are going to opt for a systematic way of building links, the first thing is to have specific tools for these tasks (or create them yourself if you know how to program). Among the most obvious are extensions that indicate broken links on a page, such as the popular Check My Links .
To do the same "at scale" you can count on Screaming Frog , which can extract all the broken links from a website, whether internal or outbound (outbound links), or you can use one of the SEO suites, such as Ahrefs or SEMrush , which also give you this option when you analyze a domain.
A separate chapter deserves a more recent and also Spanish tool, FuseOn Link Affinity, which what it does is automatically find all those prospects or good candidates to send you a link. It does so based on the keywords that you define and the affinity of the content of the candidate website and yours.
In addition, FuseOn shows accurate authority and traffic metrics on the analyzed websites, automatically filters spam or untrustworthy domains, and has a series of very professional options to manage the entire process of contact with webmasters and the status of the links, eliminating the need for you to write down everything in an excel.
Its options include, for example, the ability to generate disavow files to disavow those links of low quality or that you don't want pointing to your website. If there is something similar to an all-in-one in the world of link building, and capable of saving a lot of time for agencies and consultants who dedicate themselves to these tasks, it is Link Affinity .
Another Spanish tool is Growwer , which automates the process of identifying websites and blogs that are good domains in which to get a link. You enter your keywords and Growwer searches for you. And above it is free.
Effectiveness: the tools are used to automate and save time in analysis, so everything is said. They will be as effective as how you use them .
Pros: it 's like turbocharging the systematic methods in the previous section. If you have several projects and need to do a lot of link building, you are already arming yourself with good tools.
Cons: the only thing would be the price, but this obviously depends on your budget. There are cheaper and more expensive tools, but in my opinion all of them are profitable , due to the time they save compared to doing the same thing but manually.
Link baiting (create good content and links will come)
Link baiting means throwing a bait for the links to bite on their own, rather than fetching them. To do so, you need a stellar piece of content first.
And not only that it is very good because it seems so to you, but that it fits into a format or theme that you know has already been successful in attracting links in your niche or similar niches. That is, if there is nothing to look at in your niche, you can be inspired by other niches that have a similar audience.
It is what is called skyscrapper , or skyscraper technique. Use a tool like BuzzSumo, Ahrefs Content Explorer, or SEMrush's Topic Research module to find the page with the most links in your niche, and then improve it.
In general, the formats that most tend to attract links are infographics (only if they are very well done and offer interesting and well synthesized data) and original studies backed by a lot of data, which is the most effective way to link baiting of quality.
There are those who will tell you that infographics are very tired, and the truth is that many people have jumped into doing them almost in any way. But precisely for that reason, when there is a professional-looking one backed by good information, it stands out (in this post you can see, with data, how well linkbaiting with infographics can work).
Also, if you want to go a little further, interactive infographics and interactive maps are becoming very popular. This is not done by just anyone with a free template.
But do not limit yourself to infographics or studies. The truth is, any content that sticks out can be used as bait. The only conditions, that it is a very complete content, much better than what has been published so far (what Rand Fishkin calls 10x content ) and that it has a clearly professional appearance.
By complying with this, we will be able to receive links. But we are not going to sit around waiting for them to fall from the sky, but we will contact all those who can give us the link.
How do we know who to contact? Well, we look at who has linked to those pages that have served as inspiration for our content. With a good link analysis tool like Ahrefs, we already know who to start with.
Effectiveness: the highest, if the content we start from is really good. If the content is medium hair, you will lose time and the effectiveness of the campaign will be low.
Pros: It is the white hat method par excellence. Google can never penalize you for doing a well done linkbaiting. With your guidelines in hand, there is nothing wrong with creating good content in order to attract links.
Cons: works well for blogs, but not so well for an ecommerce website. Since almost nobody wants to link to a category or a landing page designed to sell a product. It is much easier to convince other webmasters to link to a page with informational content, not intended to sell.
Then, the "force" or authority that these links pass us will not fall on the page that we want to place higher in Google. But we can solve this in two ways:
– Target a related keyword. We create highly linkable content that also responds to some competitive search within our niche, even if it is not directly transactional. Then, Google will be sending us users interested in our niche, which we can later convert into customers if we make them subscribe to our newsletter, or simply by remarketing them in Adwords or Facebook Ads (but this is beyond the borders of SEO).

– Redirection to the landing page that we want to position.This is what Machiavello would do if it were SEO. We start from a blog type content, and when we have received all the links that are reasonable to expect, we make a 301 redirect to the landing that we really want to rank above the competition. With this, we receive a large part of the link juice that we have obtained thanks to the campaign.
There is only one "but". The anchors we have achieved will almost certainly not match the commercial keyword that interests us. Therefore, this maneuver may be a little less effective than it seems on paper and, in fact, in a highly competitive keyword it may not be enough. The anchor text matters, let's not forget it. If we have got 50 new backlinks, but 45 of them do not have an anchor text related to the keyword in question, we will go up in the SERPS much less than we would like.
Link building strategies (summary table)
| | | | | |
| --- | --- | --- | --- | --- |
| Link Building Strategy | Difficulty | Workload | Effectiveness | Risk |
| Spam or automated | Easy | Short | Low or no | Very high |
| Private blog networks or PBN | Half | high | Half | High |
| Money Blog Network (MBN) | Hard | high | High average | Half |
| Guest posts | Easy | Half | Half | Half |
| Networking | Easy | Half | high | Under |
| Systematic | Easy | Middle-low | high | Under |
| Link Baiting | Half | Half | Very high | Null |
Case study: an example of linkbaiting
At the end of 2015, at Ernesto Olivares Visual Information , the agency I worked with, we published a megapost with 16 graphic and web design trends for 2016 . To maximize results, we did it on our domain and, in a slightly reduced version, also on Medium . The winning horse turned out to be Medium, which was not a surprise, because to begin with, it has more traffic and a greater chance of being discovered, and there are also domains that have a greater chance of being linked than others.
The bottom line is that even though the content was epic, we did our best to get it out there, identifying influencers who had linked or shared similar design items in the past. Of course, using the skyscrapper technique, ours was the most complete of all. The results?
To date, the Medium post has achieved, according to Ahrefs, 563 backlinks from 120 domains, although not all are still alive today. Our highest point for live links and domains was in June 2016, with 500 live links and 111 referring domains.
To this we must add that the post published on our domain achieved another 54 backlinks from 24 domains at its best. In total, we get backlinks from 144 domains from countries around the world. Not bad for a single piece of content, right?
But there is more. In case anyone thinks that the strategy had a weak point because most of the backlinks went to a domain that is not ours, watch out for this:
The post on our blog was the first we published and therefore the first indexed by Google. In addition, the Medium post linked to ours . therefore, we were passing their link juice to our post. Which was the one that actually ranked highest on Google. A perfect example of how to use link building in umbrellas or levels (tier1, tier2, etc). And all natural links, no PBNs or weird stuff. : D
How big was the organic traffic boost that that post gave us? A lot of. We are talking about more than 23,000 sessions from Google, with peaks of almost 200 visits per day in February 2016 (these are searches that are made more frequently in the first months of the year).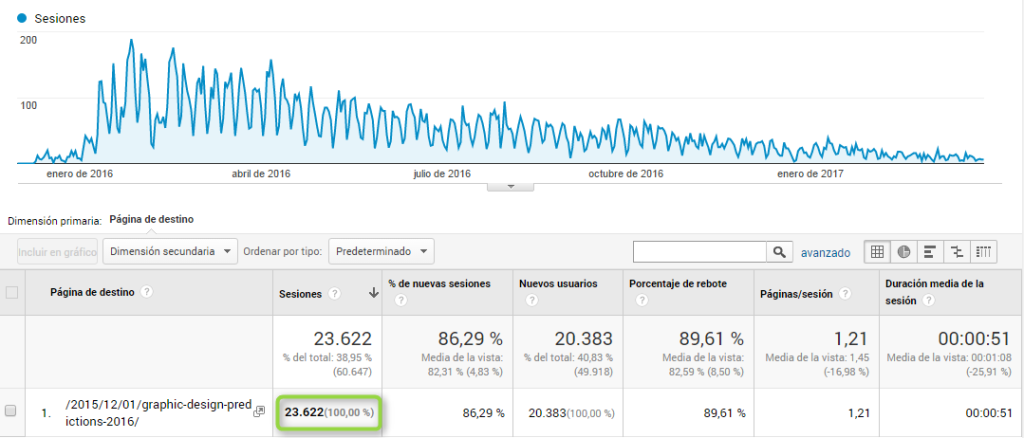 And buy links?
There is a reason I have given up buying links. Buying links is very common, but I don't consider it a link building method or strategy. Why?
First of all, there is the Google problem. According to their rules, the purchase of links is advertising, and as such any link that we have paid for must be marked with "nofollow".
That is, Google does not prevent buying and selling links; As long as you make it clear that it is advertising . Therefore, if we are going to follow Google's rules, a link purchased and marked as nofollow will not serve to improve our rankings (although it will be perfectly valid to bring traffic to your website).
Now, what if I don't want to follow Google's rules by heart? Well, we go back to what I said for PBNs.
If you want to risk buying links and using these links to rank better, of course you can. Google is not all powerful and does not see everything. There is a more or less high percentage of paid links that will be "swallowed".
There is also a fairly low percentage of domains in which it "knows" that links are being bought and sold. Once you have these localized domains, you can act as you please: devaluing the strength of those links, discounting them entirely, or even manually penalizing the domains involved (not only the seller, but also the buyer, if they want to). ).
The worst thing is that we do not know for sure what you can do, and also your position towards these types of links can change suddenly. That is, the same today and for a few months you position yourself in luxury with two or three purchased links, but what if Google changes something later and you hit it?
As in the case of automated links and PBNS, we cannot say that Google did not warn . The danger exists. I know that many marketers find it an assumable danger, and in the absence of a better strategy, they go for this one. But is it really the most profitable, considering possible costs and benefits?
What comes out better? Invest just once in a good study or infographic and a decent outreach campaign, to get ten, fifteen or twenty "natural" links, totally free of suspicion on the part of Google? Or do you pay tocateja for each link in your campaign, increasing each time you do so the risk of incurring a Google penalty in the future? I leave it there.
That's all? What about anchor text, link speed, etc?
Surely you have read somewhere that it is convenient to have a certain percentage of anchor text with the exact keyword, a certain percentage with your brand, etc. This is true, but it is also true that this is worthless if you don't know where to start getting links. The techniques that I have recommended are safe ways to start and increase both the number and the quality of your link profile, something that many people consider the most difficult of SEO.
Then, the percentage of anchor text are extra elements that you place on this strategy. If a strategy has worked for you and you have already created 15 or 20 links, it is time to worry that your anchor text profile is natural. But not before.
The speed at which the links are achieved is the same. If most people have trouble getting more than two relevant links, why should we worry about speed? I think the only case you should worry about is if you opt for an automated system, which I don't recommend at all.
Just think that in the link baiting example I gave before we never worried about anchor text or speed, which was actually very high at first. And it worked very well.
Conclusion
As you have seen, all techniques have at least one drawback. There is no perfect link building strategy, at least not for just any niche. Depending on your theme and how the competition is moving, one type of link building or another, or a combination of several, will be more convenient.
I do take this for sure: for online businesses with the intention of taking advantage of SEO in the medium or long term, neither spam links nor PBNs are recommended strategies.
For the others, you must make a cost and benefit calculation , taking into account the strengths of your project. Do you have the ability to create content that is clearly superior to what the competition is doing? A linkbaiting strategy will be ideal for you. Are you good at weaving relationships or do you manage multiple websites? Relationships and the exchange of links can be the center of your strategy, and it will also give more benefits as time goes by. Are you in a super competitive niche and do you have enough time and budget to do link building in a big way? Then I would do all the "safe" methods (from 4 to 7), one after the other, according to their level of effectiveness.
I hope I have clarified with this post an aspect of SEO around which there is usually a lot of secrecy. If you have any method to add or you disagree with the effectiveness that I give to any of the strategies, I'll wait for you in the comments.
PS: To go even deeper, the most complete post that I know (in English, yes) is this one from Ahrefs , where you will see in more detail several of the strategies that I have told you and some variations, as well as answers to the most basic questions about link building. If you are not interested in reading in English and you have a question, go ahead and send it in the comments; I promise to answer all of them.